Dedicated to the Victims of Distracted Driving
The law office of Thomas J. Ueberschaer, P.A., is dedicated to helping victims of distracted driving. We will listen to your story, help you build your case and fight for a fair settlement from the insurance company. Our law firm will advocate on your behalf to help you receive the compensation you deserve for your losses.
To initiate your case, call 850-741-7381 and receive a free case review from a distracted driving lawyer in Pensacola, Florida.
What Is Distracted Driving?
Distracted driving occurs when a driver engages in an activity that diverts their attention from driving safely. Common distractions include using a phone or device, eating, socializing, accessing vehicle controls or applying makeup.
Any non-driving activity the other driver engages in is a potential distraction and increases the risk of a car crash. In this case, the driver engaging in a distracting activity is what caused your automobile accident.
Distracted Driving Is Against the Law in Florida
The "Florida Ban on Texting While Driving Law." section 316.305, Florida Statutes, took effect on July 1, 2019. This law requires drivers to put phones down and focus on driving. A person may not operate a motor vehicle while manually typing or entering multiple letters, numbers or symbols into a wireless communications device to text, email and instant message.
For this reason, a driver who kills or injures someone while distracted could face higher fines, jail time or license suspension as a result of this criminal activity. In addition, you may file a civil suit against the distracted driver for personal injury or wrongful death.
Distracted Driving Cases We Take On
There are three main types of distracted driving cases that we take on in Florida:
Visual:

The at-fault driver takes their eyes off the road.

Manual:

The at-fault driver takes their hands off the wheel.

Cognitive:

The at-fault driver takes their mind off driving.
Many of the clients we work with have been injured in accidents that involve the following distractions:
●

 

Texting

●

 

Talking on the phone

●

 

Eating or drinking

●

 

Talking to passengers

●

 

Grooming

●

 

Reading

●

 

Using a navigation system

●

 

Watching a video

●

 

Adjusting the radio
Regardless of the nature of your car accident or what the other driver was doing, our law firm can take on your case. We have helped victims in cases similar to yours recover damages and win their cases. Let our legal team assist you as you recover your damages.
How Can I Prove the Other Driver Was Distracted?
A distracted driving accident can be difficult to prove. If you are the victim of another driver's negligence or reckless behavior, you may not have known that they were distracted until they hit you. You may also believe you lack evidence to verify your claim.
Our legal team will conduct an extensive investigation to establish that the other driver is at fault for your injuries and their distracted driving is what caused the car accident. We will gather evidence of fault and liability from numerous sources:
Cell phone records

Social media activity

Eyewitness testimony

Police report

Accident reconstruction experts

Surveillance cameras
We can use the evidence to demonstrate that the other driver is at fault and caused the accident due to distracted driving.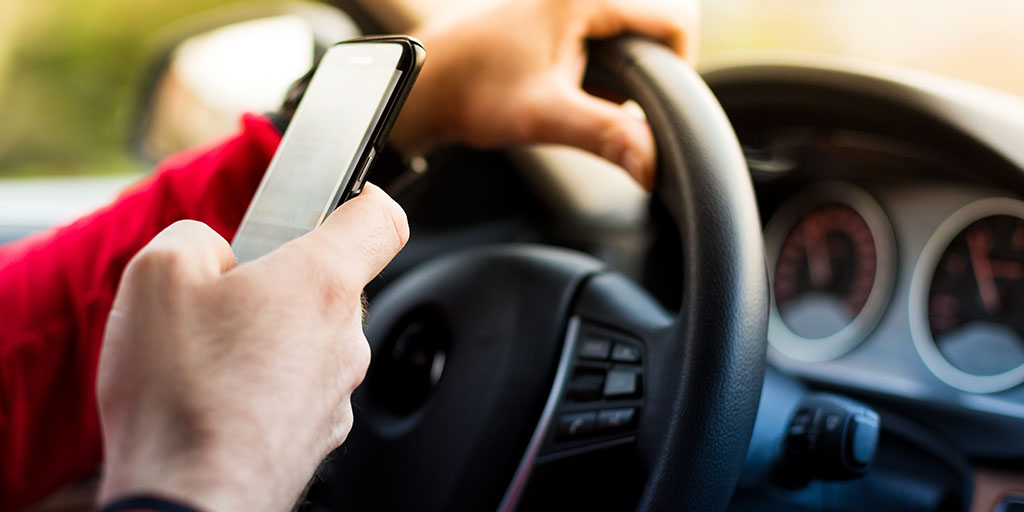 Damages in a Distracted Driving Accident
How much you can recover in a distracted driving accident depends on the nature of the accident, the parties involved and the extent of your economic and non-economic losses. You may be eligible to claim the following in your case:
Medical Expenses
Medical expenses may include ER visits, hospital stays, surgical procedures, medication, physical therapy or long-term care.
Lost Wages
If you have been out of work and, as a result, have lost income due to your accident, you may be able to claim your lost wages. In addition, you may also be eligible for disability if you are permanently injured or disfigured.
Non-economic Damages
An insurance company or court may also award you damages for pain and suffering, loss of quality of life, loss of consortium or emotional distress.
We will work on your behalf to get the maximum compensation possible from the insurance company. You should not have to pay for someone else's negligence.
Hire Thomas J. Ueberschaer, P.A., to Represent You Today
When you are ready to move forward with your case, we are here to help every step of the way. Thomas J. Ueberschaer, P.A., provides comprehensive legal services for victims of car accidents in Florida. Contact us today to get started with your claim.
 We will answer your questions, address your concerns and work on your behalf to take on the insurance companies. To schedule a free case evaluation, call us at 850-741-7381.
With over

$250 Million

in Verdicts and Recoveries, the Victories Just Keep on Coming.
$325,000 was awarded to a client who experienced a head-on collision resulting in serious injuries to their legs.
$1,100,000 was awarded in a workers' compensation settlement. The client was moving a heavy object resulting in permanent total disability.
SOCIAL SECURITY DISABILITY
$90,000 in back due benefits and ongoing payments after judge's hearing for 45-year-old mechanic suffering from severe sleep disorder, leaving him unable to maintain any full-time employment.